EMS Guided Biofilm Therapy – The Game Changer!
With Guided Biofilm Therapy (GBT), you are opting for the 'gold standard' in professional prophylactic treatment. As patients become aware how preventive oral care can reduce the need for expensive restorative work, the more they will demand dental practices to make the latest technological developments and procedures available.
Read our checklist HERE on how to qualify as a GBTCertified Practice and get all the added benefits.
GBT leads the paradigm shift in professional prophylaxis based on the latest scientific evidence.
It employs the AIR-FLOW method which has the following proven benefits:
Improves visibility of calculus
Minimises harmful oral bacteria
Significantly enhances patient comfort
Reduces effort and the strain on the practitioner when using ultrasonic devices
Saves time that can be better used during the consultation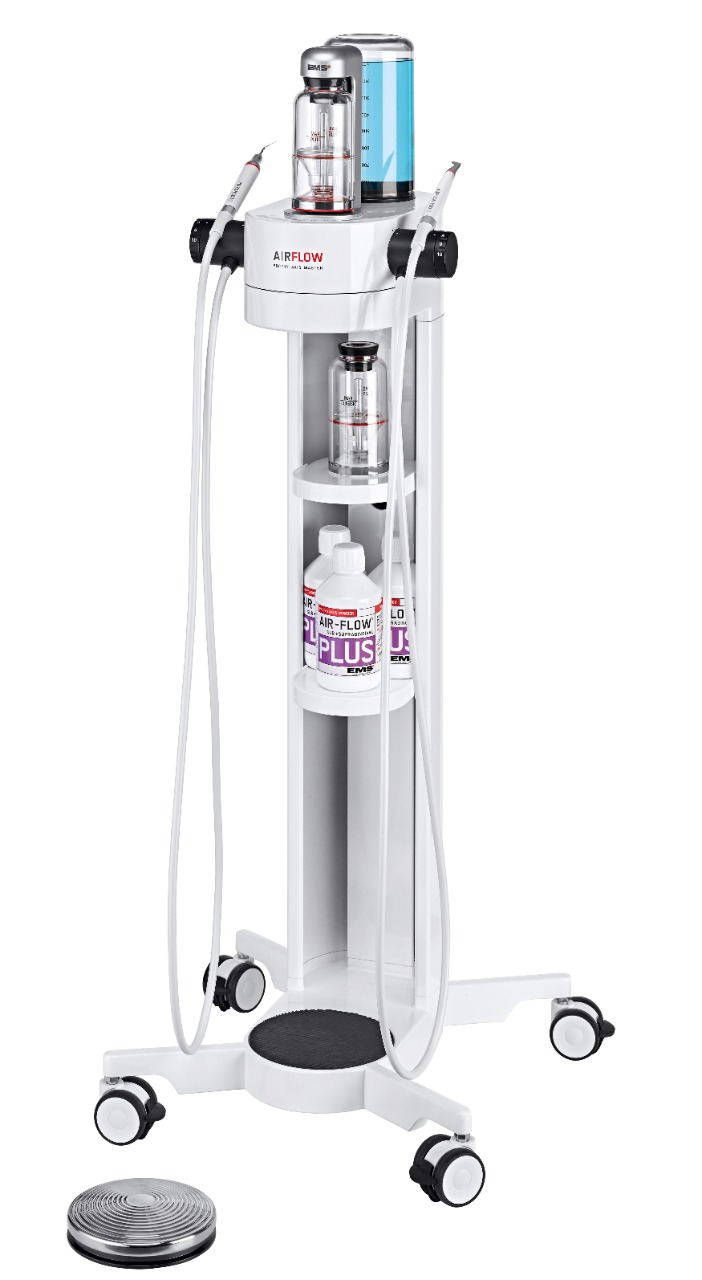 Dental hygienists in South Africa can become accredited GBT professionals with Swiss Dental Academy (SDA) training conducted by local oral hygienist Dirna Grobbelaar, one of only four SDA qualified trainers in the country. Grobbelaar offers GBT training at Ivodent's International Centre For Dental Education (ICDE) in Cape Town and other training venues around the country – watch IvodentSA Facebook Events for dates and venues.
Ivodent's SDA programme covers Guided Biofilm Therapy, implant cleaning and safe usage of the Air-Flow and Piezon instrumentation with added clinical and scientific evidence and practical exercises.
"Guided Biofilm Therapy is so different, innovative and effective that it makes oral hygiene exciting again", says Grobbelaar. "Whilst the GBT protocol is different to what we were taught in some ways, it also helps improve important basics, such as using a plaque indicator and improving scaling technique."
By offering GBT your dental practice benefits:
The patient – a pain-free and minimally invasive procedure
The hygienist – reduces time and effort for maximum results
The practice – adds value to services offered
Ivodent exclusively supplies exclusively supplies South Africa with the EMS (Electro Medical Systems) prophylaxis device – quality made in Switzerland. EMS are experts in removing biofilm – the root cause of tooth decay, periodontitis and peri-Implantitis – with scientifically proven methods and breakthrough products. Your patients will enjoy natural and healthy teeth and implants for much longer. Additional information on EMS
A distinct desire for innovation, a unique idea and a good sense for the challenges in modern dental offices were the key ingredients to the founding of EMS Electro Medical Systems in Switzerland in 1981 by Bernd Buhner and Pierre Mabille. In 1983 they presented their first prophylaxis devices with the AIR-FLOW and PIEZON systems, which have dramatically changed the modern approach to dental care. They have always been guided by a specific conviction: that a visit to the dentist should be pleasant and painless. With this vision, EMS has become one of the world's most successful dental companies. Today, more than 500 people work with EMS each day to make dental prophylaxis increasingly successful, fast, painless and effective.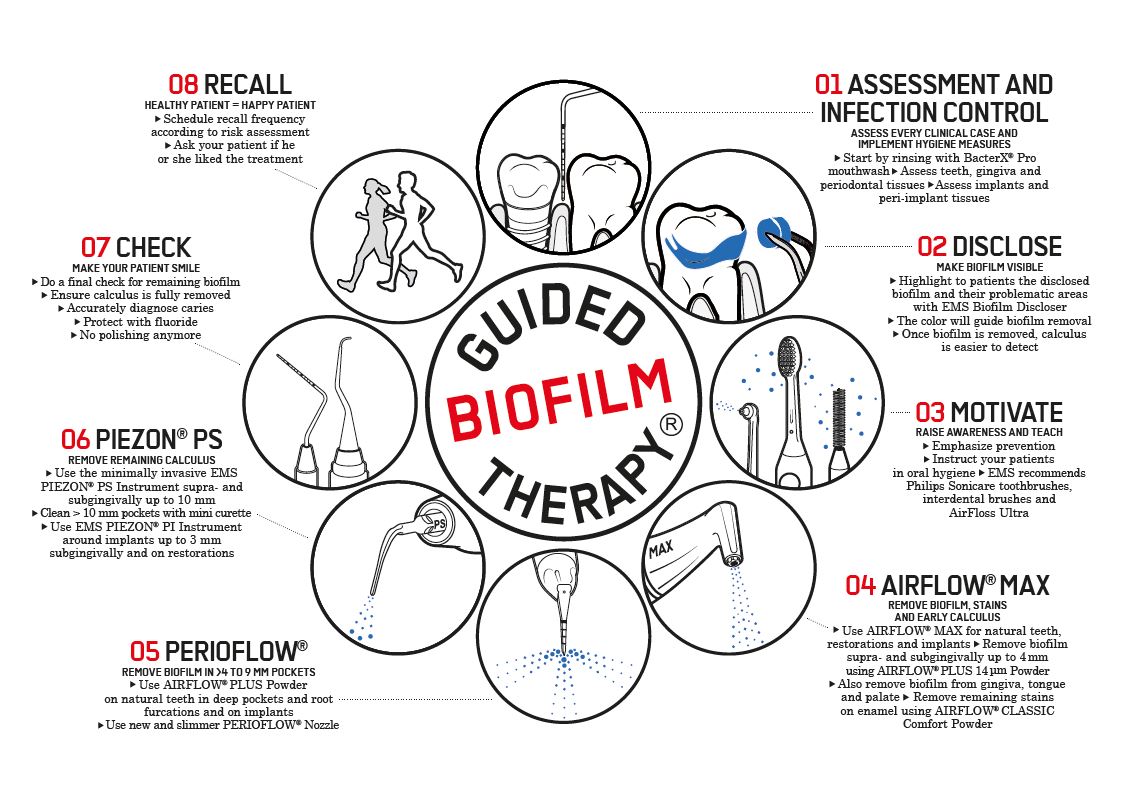 Guided Biofilm Specialists at GBT Certified Practices
View a Location Map of GBT Certified Practices in Southern Africa on our consumer website Ivohealth (click here) or refer to the list below:
| PRACTICE NAME | GBT COURSE ATTENDED | LOCATION |
| --- | --- | --- |
| Intercare Tygervalley | Dirna Grobbelaar | Cape Town - Bellville |
| Tygerberg University | Periodontic Department | Cape Town - Bellville |
| Dr Badenhorst | Lecile de Plussis | Cape Town - Claremont |
| Smith & Van Lierop Dentistry | Benita Matthews, Cole Gilbert | Cape Town - Newlands |
| Enhance Dental Studio (Dr A.A. Everson) | Carina Everson | Cape Town - Claremont |
| Dr Liezl Kemp & Associates | Dr Liezl Kemp, Lecile de Plussis | Cape Town - Claremont |
| Dentists on Welwyn | Dr Nicolene Van Vuuren, Dr Marines Loots | Cape Town - Pinelands |
| Cape Periodontal Specialists | Dr Schnetler, Dr Langenegger, Emma Louise Lawrence | Cape Town - Newlands |
| Enamel Clinic | Elizabeth van der Ham, Andrea Bothma, Jolandi Keyser | Cape Town - De Waterkant |
| Cosmetic & Dental - Dr Zak | Nazeela Berdien | Cape Town - Waterfront |
| Dr JJ Serfontein | Caitlin Marais | Cape Town - Waterfront |
| Dr JJ Serfontein | Chantelle Kumm | Cape Town - Bellville |
| Longbeach Dental | Dr Janel Welgemoed, Nasima Hamdulay | Cape Town - Simonstown |
| Longbeach Dental | Tanian Goloiath, Dr Tayla Goldberg | Cape Town - Noordhoek |
| Dr TN Kruger | Helen Erasmus | Cape Town - Somerset West |
| Jeanne-Marie Engelbrecht | Jeanne-Marie Engelbrecht | Cape Town - Somerset West |
| Dental Haus | Dr Shanee Maree, Benita Matthews | Cape Town - Val De Vie |
| Dr Johannes | Benita Matthews | Cape Town - Paarl |
| Implant Perio Inc | Lizelle Janse van Rensburg, Sonja Coetzee, Stephanie Roetz, Suzette Stander | Western Cape - George |
| Dr Kok | Mrs Marie Potgieter | Western Cape - Knysna |
| Rejuvedent Whitening bar | Dr L Maree | Western Cape - Wellington |
| 1,2 Smile - Dr Grove | Boitumelo Koopedi | Johannesburg - Kayalami |
| 1,2 Smile - Dr Grove | Andrea Cane, Dr Christel Fick, Christa du Plessis | Johannesburg - Bryanston |
| Dental Wellness Dimensions | Dr Mike Holmes, Mrs Marele Dekekind | Johannesburg - Bryanston |
| Quest Dental of Bryanston | Dr M.B. Walker, Hemlata Rampersadh, Kerry Walker, Angela Shannon | Johannesburg - Bryanston |
| Dr Siebold | Stephanie Gunther, Denise Bylos | Johannesburg - Parktown |
| WITS University | Oral Hygiene Department, Periodontic Department | Johannesburg - Parktown |
| Dr Ivan Marx Inc | Elize Smith | Johannesburg - Waverley |
| Dr R Grobler | Dr Riana Grobler | Johannesburg - Bassonia |
| Bradford Dental Centre | Dr Alex Pitsillis, Dr Maria Panayioutou | Johannesburg - Bedfordview |
| Marelize Kilian | Marelize Kilian | Johannesburg - Helderkruin |
| Tanya Johannes | Tanya Johannes | Johannesburg - Krugersdorp |
| Noeleen White | Noeleen White | Johannesburg - Kempton Park |
| Dr Glassman | Esda Scheepers | Johannesburg - Alberton |
| Dr FJ Cilliers | Juanel Cilliers | Johannesburg - Nigel |
| Linbro Park Dental Surgery | Dr Ivanov Bistra | Johannesburg - Sandton |
| Sculpt Dentistry (Dr Ras) | Johanri Smit, Dr Ras | Johannesburg - Sandton |
| Stella Lamprecht | Stella Lamprecht | Gauteng - Pretoria East |
| Root 32 Dental Care | Asti Poolman | Gauteng - Pretoria East |
| Denticare (Dr Andre Strydom) | Mrs Susan Strydom | Gauteng - Pretoria East |
| Specialized Dental Centre (Dr P.L.R. Louw) | Alma Olivier | Gauteng - Pretoria East |
| I Love My Smile (Dr Grotius) | Mrs Ina Alberts | Gauteng - Pretoria East |
| Dr Aubrey Masilana | Dr Aubrey Masilana | Gaunteng - Pretoria Central |
| Dr Muire | Mrs Zeldine Stander, Mrs Erika van Staden | Gaunteng - Pretoria (Magalieskruin) |
| Dr S Nel | Heike Smit, Amanda Bouwer | Gauteng - Pretoria (Brooklyn) |
| Dr G Patterson | Samantha Gomez | Gauteng - Pretoria |
| Blanca Dental | Heike Smit | Gauteng - Pretoria |
| Dr Manenzhe | Dr Manenzhe | Gauteng - Centurion |
| Kearney Inc | Angelique Kerney | Gauteng - Centurion |
| Dr C.J Bosman | Amorie van Niekerk | Free State - Bloemfontein |
| Dr J.S Marais | Irisha Ross | Free State - Bloemfontein |
| Floss Oral Hygiene | Miss Chane Alberts | Limpopo - Polokwane |
| My Smile Dental Studio (Dr vd Meulen) | Ms Gisela Erichsen | Mpumalanga - White River |
| Dr Helene Olivier | Dr Helene Olivier | KwaZulu-Natal - Umhlanga |
| Dr A.K Singh | Michaela Nadine Naidoo | KwaZulu-Natal - Umhlanga |
| Cosmetic and Dental Emporium - Ballito | Nerissa Govender | KwaZulu-Natal - Ballito |
| Cosmetic and Dental Emporium - Umhlanga | Nerissa Govender | KwaZulu-Natal - Umhlanga |
| Redefine Dental (Dr N Tuluram) | Dr Saijal Hariparsad | KwaZulu-Natal - Durban North |
| Implant Perio Inc | Dr Suzette Stander | Eastern Cape - Port Elizabeth |
| Implant Perio | Roxanne Kitching | Eastern Cape - Port Elizabeth |
| Dr Johannes | Anelise Gosa, Tay-Yibah Jacobs, Jocelyn De Vos | Eastern Cape - Port Elizabeth |
| Dr E. Bhaskar | Dr E. Bhaskar, Dr Sheetal Bhaskar, Agnes Musemwa | Zimbabwe - Harare |
| Dr Markarian | Dr Markarian | Zimbabwe - Harare |
| Dr M Wucher (D&M) | Elize Hauflele, Dr Martin Wucher | Namibia |
| Dr Ahmad Ismail | Fergu-Zeen | Namibia |
| Limese Langenhoven | Limese Langenhoven | Namibia |
| Dr Dean Kock | Margie Thomas, Caroline Bredenhann | Namibia |
| Dr Tam-Lynn Fox | Caroline Bredenhann | Namibia |
| | | |